CASCOM: Context-aware Business Application Service Co-ordination in mobile Computing Environments (Finished)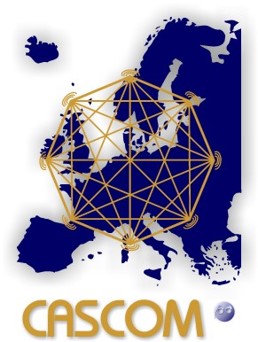 The main objective of the project (CASCOM) is to implement, validate, and trial a value-added supportive infrastructure for Semantic Web based business application services across mobile and fixed networks. The main expected outcomes of the CASCOM coordination framework include
Innovative research results and techniques for context-aware, agent-based business application service coordination and secure provision in open P2P service environments,
Implemented context-aware agents using these techniques, and basic co-ordination infrastructure services,
Service coordination architecture and specifications, and guidelines for using (a) and (b) to develop various context-aware business application services in nomadic computing environments, and
Prototypically implemented CASCOM service coordination demonstrator for selected health care use case scenario.
The essential approach of CASCOM is the innovative inter-disciplinary combination of intelligent agent, Semantic Web, P2P, and mobile computing technology. Conventional peer-to-peer computing environments are extended with components for mobile and wireless communication. Semantic Web services are provided by peer software agents which exploit the CASCOM coordination infrastructure to efficiently operate in highly dynamic environments. The generic CASCOM coordination support infrastructure includes efficient communication means, support for context-aware adaptation techniques, as well as flexible, resource-efficient service discovery, execution, and composition planning. The project will deliver a full proof-of-concept implementation of the generic CASCOM service coordination support infrastructure for mobile business application service coordination for mobile users and workers, and a field-trial CASCOM demonstrator for selected pervasive health care application services. For end users, the CASCOM framework provides more easy and seamless access to semantic Web services anytime, anywhere, by using any mobile computing device. For service providers, CASCOM offers an innovative development platform for intelligent and mobile business application services in the Semantic Web.
Website
Start / End Dates
01.09.2004 - 31.12.2007
Partners
German Research Center for Artificial Intelligence, TeliaSonera, ADETTI, EMA Group, EPFL, FRAMeTech, UMIT, URJC, University of Basel
Funding
278'636.31 EUR Overall Project Budget: 2.7 Mio. EUR
Staff
Research Topics
Publications
2012
2008
2007
Thorsten Möller, Heiko Schuldt
A Platform to Support Decentralized and Dynamically Distributed P2P Composite OWL-S Service Execution
Proceedings of the 2nd workshop on Middleware for Service Oriented Computing (MW4SOC), collocated wi, Newport Beach, CA, USA 2007/11
Nadine Fröhlich, Heikki Helin, Heimo Laamanen, Thorsten Möller, Thomas Schabetsberger, Heiko Schuldt, Christian Stark
Semantic Service Co-Ordination for Emergency Assistance in Mobile e-Health Environments
Workshop on Semantic Web in Ubiquitous Healthcare, collocated with the 6th International Semantic We, Busan, South Korea 2007/11
2006
Bergenti, F.; Cáceres, C.; Fernández, A.; Fröhlich, N.; Helin, H.; Keller, O.; Kinnunen, A.; Klusch, M.; Laamanen, H.; Lopes, A.; Ossowski, S.; Schuldt, H.; Schumacher, M.
Context-aware Service Coordination for Mobile e-Health Applications
Proceedings of 1st European Conference on E-Health (ECEH06), 2006/10
Hans-J. Schek, Heiko Schuldt
DelosDLMS - Infrastructure for the Next Generation of Digital Library Management Systems
ERCIM News, Special Issue on European Digital Library, 2006/7
2005
Heikki Helin, Matthias Klusch, Antonio Lopes, Alberto Fernandez, Michael Schumacher, Heiko Schuldt, Federico Bergenti, Ari Kinnunen
CASCOM:Context-Aware Service Co-ordination in Mobile P2P Environments
Proceedings of the 3rd German Conference on Multiagent System Technologies (MATES 2005), Koblenz, Germany 2005/9
Thorsten Möller, Heiko Schuldt, Andreas Gerber, Matthias Klusch
Semantic Service Composition and Co-ordination in CASCOM
Proceedings of the 3rd Healthcare Digital Libraries Workshop (HDL 2005), Vienna, Austria 2005/9
Thorsten Möller, Heiko Schuldt
Unterstützung zukünftiger Anwendungen im Gesundheitswesen durch Kopplung beschreibender Informationen an gegenständliche und virtuelle Objekte
50. Jahrestagung der Deutschen Gesellschaft für Medizinische Informatik, Biometrie und Epidemiologie, Freiburg im Breisgau, Germany 2005/9